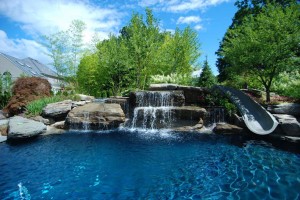 Start your summer off right with amazing pool maintenance on Long Island. Park Avenue Pools would be more than happy to maintain your pool for the entire summer, so you and your family can make the most of it.
Pool maintenance can be a difficult task if you're unexperienced in working with Long Island pools. That's why our technicians can help. We work quickly yet efficiently, so you can go back to enjoying your pool as soon as possible. Our staff can come to your Long Island home every week, twice weekly or every other week, to perform the pool maintenance you need this summer. This is the best way to extend the lifespan of your pool and make sure it's performing at the highest efficiency.
Water Cleaning and Levels: Whether you need us to simply skim the surface of your pool or replace a pump, we can do it all. A cleaner pool means less pool maintenance and less chlorine in your pool, making it a safer environment for your Long Island family. This also saves you money in the long-run as well.
Similarly, we'll monitor the water level in your pool, as well as its chemical level. These are all important factors to achieve the perfect balance that's ideal for swimming. We understand that chlorine can be a dangerous chemical, and that's why we make sure to thoroughly clean your pool. This is ensures that no unnecessary chlorine needs to be added. With this, your family will be able to freely swim without sore or stinging eyes, running noses, and other negative effects of chlorine.
Weekly maintenance consists of:  skimming the leaves, brushing the steps, walls and floor.  Empty pump baskets and skimmer baskets, backwash filter (and add DE if needed ), vacuum pool, check and adjust chemicals accordingly, fill chlorinator, take care of pool equipment
You also can't underestimate the importance of cleaning the surfaces and filters of your pool as well. When our technicians clean the sides and tiles of your pool, in addition to your pool filters, you're reducing the risk of debris buildup.
Park Avenue Pools understands that your pool is one of your greatest investments, so make sure it's treated the right way with Long Island pool maintenance. Call us up today at (631) 586-7665 for an appointment! With every job we perform, we'll inspect your entire pool to make sure there are no leaks or other issues. We'll meticulously work on your Long Island pool and provide you with the very best in pool maintenance.