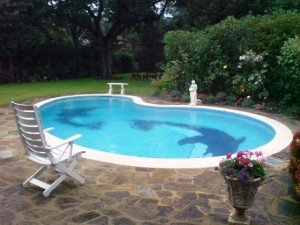 Park Avenue Pools specializes in servicing swimming pools across Dix Hills. In fact, we have been in business for over twenty years and service over a thousand pools a year. We are completely licensed and insured as well. Because we'll care for your pool as if it's our own, we'll put in the care and attention that you wouldn't receive from any other company.
Have the best summer of your life by letting us take care of your Dix Hills pool. When your pool is clean and fully functioning, you and your family can enjoy spending time together and relaxing. In addition, you can help your children love the water as well. Let the experts at Park Avenue Pools bring you the finest condition you could have for your pool.
Because we uphold our traditional values when it comes to our customers, you know you'll be receiving the best service. Whenever we perform a job, we always get it done on time. In addition, it's always done right the first time so you'll never have to worry about it. We personalize our services to your specific needs as well. Dix Hills inground pools are all different, and that's why we'll work to do what's best for your pool.
The advantage that we have over the competition is our prices and services. We offer our work at reasonable prices, along with the very best customer service. When we work on Dix Hills pools, we form bonds with our customers and hopefully have them as customers for life.
Our Services
Pool Opening: As soon as summer starts, let us open your pool. We have years of experience in opening Dix Hills pools so there will be no problems for the entire summer season. This is also a good opportunity to have a pool heater installation done on your Dix Hills pool.
Pool Closing: Believe it or not, improper pool closings are the number one cause for many pool repairs in Dix Hills. That's why you should call Park Avenue Pools to take care of yours for you. Your pool is one of the greatest investments, so make sure that it's fully protected in the winter.
Pool Servicing: Maintenance always needs to be done on Dix Hills pools, so have it done right by Park Avenue Pools. This is the best way to make sure that you have the perfect balance of chemicals in your pool and that it's always clean to use.
Pool Repairs: Should you ever run into a dilemma with your pool, we can help. No matter what kind of repair needs to be done, like a leak, we have enough knowledge of Dix Hills pools to take care of it. We can also perform in ground liner installations across Dix Hills.
Don't bother trying to take care of your pool yourself. Without the proper experience, it can be easy to accidentally damage your pool. Instead, leave it to our professional staff. We've worked on thousands of Dix Hills pools and will know how to make sure yours is in perfect working condition.
Give us a call today at (631) 586-7665 for pool builders that work on Dix Hills pools. We'd be more than happy to talk with you about what work needs to be done on your pool.